It seems like it's been an eternity since we last enjoyed hanging out by the pool on a beautiful summer day. Many of us feel like we lost the entire summer season in 2020 due to the Covid-10 pandemic and the lock-downs.
However, there is finally some good news. More states are now opening for business, travel, and leisure. The Centers for Disease Control (CDC) has also lifted mask mandates for everyone vaccinated against the virus.
With Summer on its way, it may finally be time for you to purchase a pool. You may also want to consider installing a beautiful travertine tile pool deck. What better way to welcome Summer than inviting your family and friends over for a good old-fashioned pool party?
Why Consider a Travertine Pool Deck?
An essential part of buying a pool is thinking about the best pool deck for your family. Travertine tile pool decks are increasingly popular because they are slip, heat, and mold resistant.
What is Travertine?
Travertine is a natural form of sedimentary limestone. It develops around natural spring mineral deposits, leading to distinctive swirls throughout the limestone. Due to the travertine tiles' layered, mottled texture and beauty, the ancient Romans favored it as a building material.
Is Travertine Around Pools Safe, or is it Slippery?
Many find that travertine tile is an ideal pool deck surface. Due to its naturally porous nature, it easily absorbs water that splashes onto the surface when you and your family are in the pool.
Because travertine retains water, the tiles aren't slippery, so you can worry less about someone sliding or falling. If you live in an environment with high amounts of rain, your travertine pool deck will help to prevent any runoff or worrisome flooding.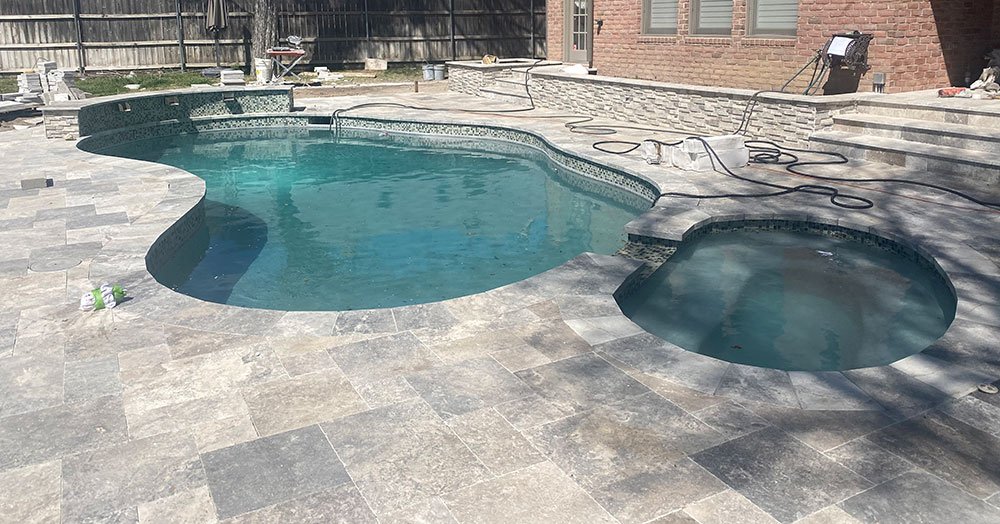 What are the Pros and Cons of Travertine Pool Decks?
There are multiple pros as well as some cons for using travertine floor tile for your pool deck. Let's begin with the pros.
Cool Even on the Hottest Days
Travertine tile is resistant to extreme temperatures. You'll find that walking on travertine is nothing like walking on hot sand at the beach.  Even when travertine tile is directly exposed to sunlight, the tile will feel cool as you walk on it with your bare feet.
Many agree that it's ideal for home landscaping, including for swimming pools and hot tubs. 
Water-Resistant
As noted earlier, travertine tiles are porous and have a non-slip surface. Because travertine tile is water-resistant, your family, guests, and pets can safely walk around the pool without slipping and falling.
Durable
Travertine tile is extremely durable, robust, and long-lasting. If you provide appropriate care and maintenance, travertine tile can have a lifespan of up to 100 years or more.
Freezing Can Cause Cracks
As with everything in life, there are some important cons to consider. If you live in a region where temperatures regularly fall below freezing, the holes in travertine tiles may cause cracks to develop. Some pool owners fill the holes with epoxy resin and then sand them down to help prevent the formation of such cracks.
Porousness: Both a Pro and a Con
One of its benefits is also one of its biggest drawbacks: that is, travertine tiles' natural porousness. 
Although travertine tiles are water-resistant, they may gradually appear stained.  Further, if your travertine pool deck is close to loose soil, dirt can become trapped in the natural pores. 
Fortunately, you can easily prevent this by sealing your deck every three to five years. Although you're not required to seal your deck, you'll be grateful that you did so a few years down the road.
Cost
As with any natural stone, travertine can be expensive, costing approximately $5 to $30 per square foot, with installation costs of $10 to $30 per square foot.  Importantly, it isn't easy to receive a set cost for such flooring.  Costs may vary, depending on the brand of the flooring, quality of materials, cost of other materials, and your location.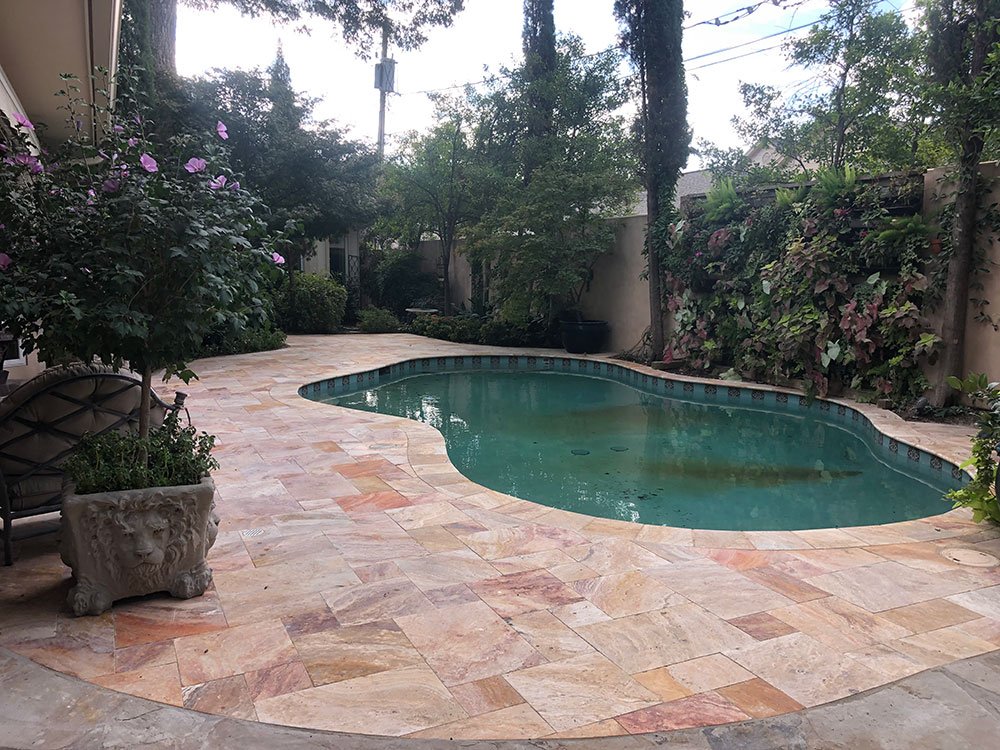 What are Travertine Pool Pavers?
Travertine bricks are made of the same natural limestone as the pool tiles. However, they are thicker and do not always come in the same sizes. Many feel that such variation adds to the natural beauty of travertine pavers. They're typically arranged in an interlocking pattern and placed on top of a stone or sand base.
Many who live in the Northern states in the U.S. worry about how durable travertine pavers are during cold weather due to repeated freezing and thawing. However, travertine pavers are typically cured before they're placed.  They are therefore much less likely to crack.  Fortunately, you can easily repair travertine pavers and not much of an issue in Texas.
What Travertine Pool Deck Colors are Available?
You'll find that travertine pool decks and tiles come in a wide variety of colors, shapes, sizes, and design options.  They also come in multiple unique patterns and textures.
Travertine Colors
Walnut
Noce
Chocolate
Silver
Philadelphia
Gold
Light
Navona
Emerald
Emerald Light
Onyx Light
Mina Rustic  
Mina Dark
Scabos
Durango
Red
Rosa
Gray
Classico
Beige
Is Travertine Good for Pool Decking?
As noted above, travertine pool decking is good for safety reasons. It's slip-resistant and extremely durable. Further, it can easily withstand brutally hot temperatures and extreme weather conditions, including heavy sleet or rain.
What Do I Need to Do to Properly Maintain Travertine Pool Decking?
Keep loose dirt from building up and possibly staining the travertine tiles by regularly sweeping your pool decking.  Also, as noted above, periodically clean travertine with mild soap or water or use a natural stone cleaner. Do not use bleach, nor anything acidic.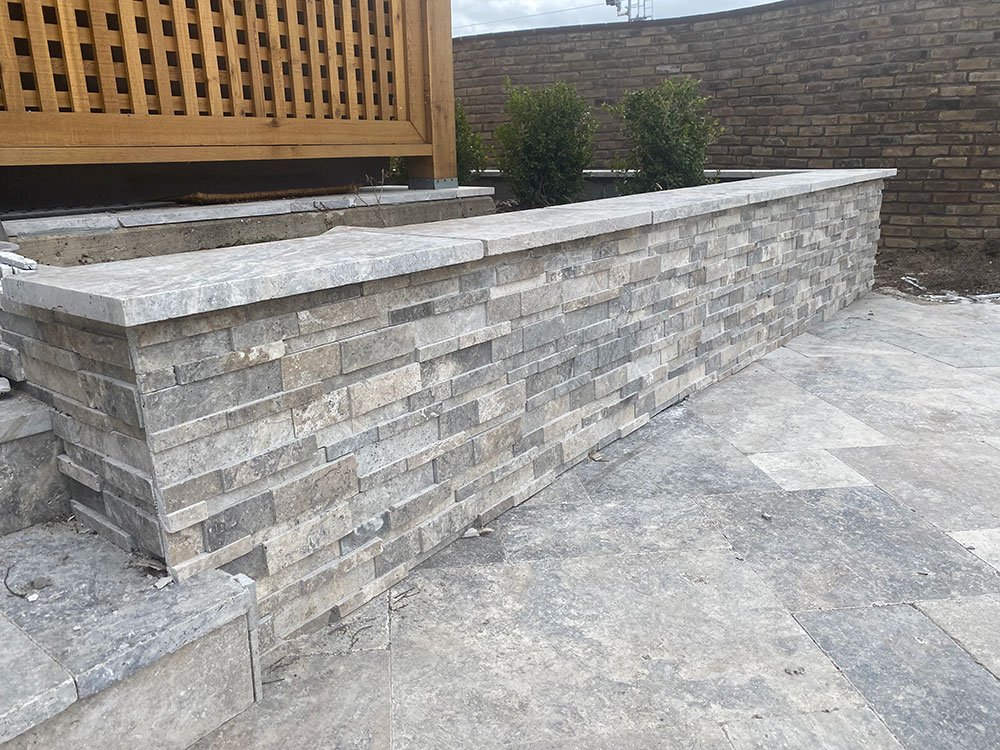 Again, consider re-sealing your travertine pool deck tiles periodically to prevent unsightly stains. If you're uncertain whether your tiles are properly sealed, drop beads of water onto the stone tiles. If the stone absorbs the water, it's a good idea to reseal your tiles.
If you need to remove stains from your travertine pool deck tiles, you can purchase a poultice from a stone dealer. A poultice is a stain remover that you can apply directly to the stone.
After spreading the poultice on the stones, lay plastic wrap over the poultice. Keep the plastic wrap in place for 24 hours. Then remove the plastic covering, and sweep away the poultice. You may need to repeat this process more than once to remove some stains completely. You can also lightly pressure wash travertine tile.
If you have small cracks in your travertine pool deck tiles, consider hiring a pool contractor to repair or replace damaged tiles.
Should I Consider Remodeling My Pool?
If you're interested in remodeling your pool, doing so may range from simply fixing cracked tiles to establishing a completely new look. You may wish to consider adding new customized designs, materials, energy-saving equipment, water features, and updated automated systems.

Fortunately, the sky's the limit. But regardless of your specific choices, you'll be sure to enjoy your beautiful, Romanesque travertine pool deck and celebrate your summer in style!
Contact Willsha Pools
If you have any question about your pool or decking, feel free to give our team a call.