Resurfacing & Repair in the DFW Metroplex
Your swimming pool is one of the most expensive additions to your home, so you want it to look good and stay in working condition. Willsha Pools has a professional and experienced team of pool remodelers to keep your in-ground swimming pool in good shape.
We offer resurfacing, replastering, water checks, and other services.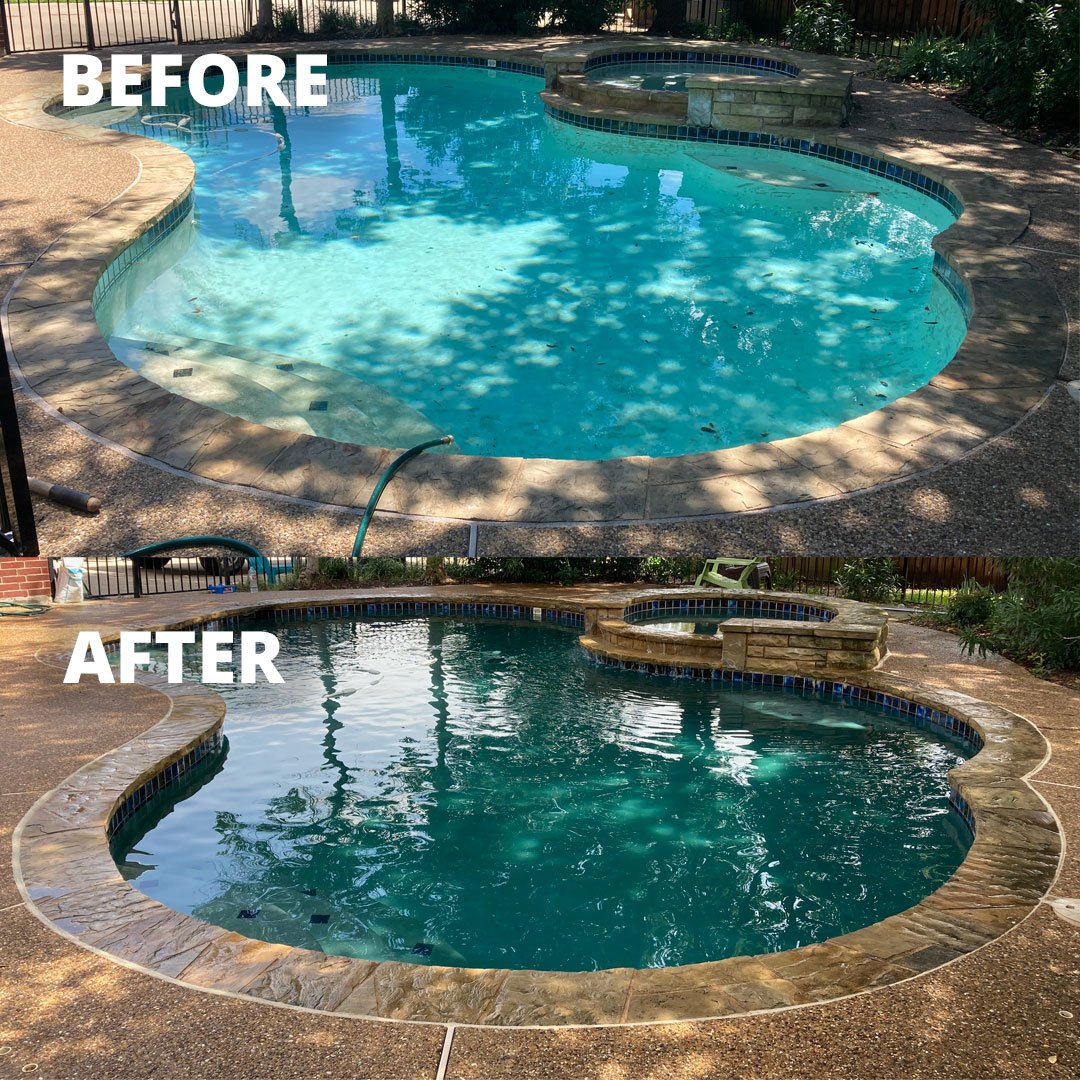 Pool Replastering
Your pool plaster provides a watertight seal to keep your pool water from leaking into the ground. Under typical use and care, you can go up to 20 years without needing a replaster job for your pool, but it will eventually be needed. We can provide you with a range of colors and patterns to achieve the look you desire for your swimming pool.
A pool replastering takes up to three days to complete, including all drying time for plaster and caulk. The pool has to be drained; then the old coat has to come off by acid wash. New coats are then applied and allowed to dry, and the pool is refilled.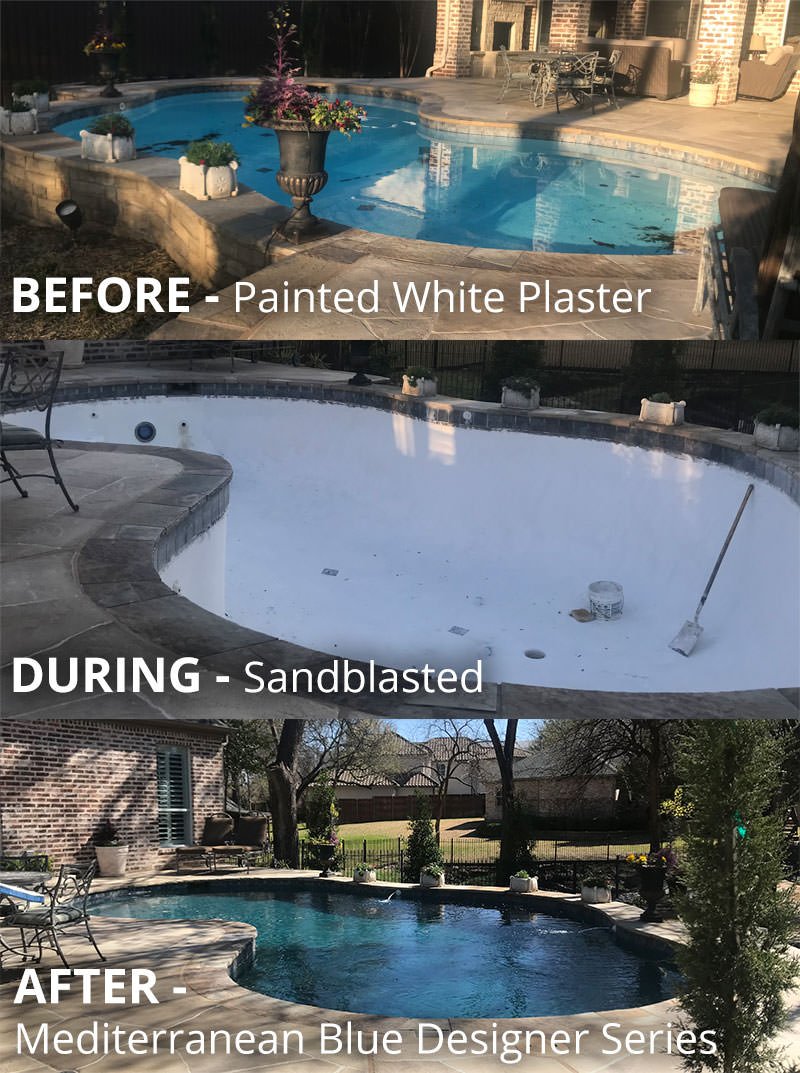 Pool Plaster Repair
Over time, plaster will begin to degrade from a chemical reaction or sharp objects like tree branches penetrating. However, we can repair small damaged areas without having to remove the entire coat. The process works much the same as a full coat, but over a much smaller area.
We will drain your pool, perform a backwash to clean out your filters, and then remove debris from the damaged portion of the plaster.
After that is complete, we create a plaster patch mix and fill in the crack, smoothing it over and refilling the pool so water causes it to set.
Cracks that become too prevalent or widespread tend to cost more to repair than reapplying the entire plaster seal. We can provide an estimate after seeing your pool and determine whether a full recoat is necessary.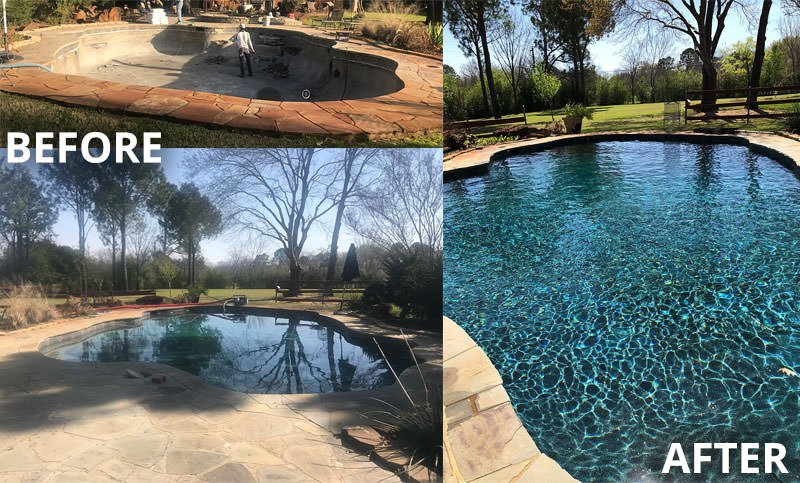 Pool Crack Repair
Sometimes the damage to a pool's structure goes beyond the top surface. It can extend into the gunite or shotcrete shell and put you at risk for leakage. If this occurs, we can repair the crack and resurface the entire pool if necessary. It depends on the extent of the damage.
First, as always, we drain the pool. Then, we'll have our team of experts walk around the bottom of the pool, removing all foreign debris and sweeping up loose plaster dust or other material. Then, they will check the sides of the pool by tapping on it to find hollow spots. A hollow spot means the plaster has begun to peel away from the concrete.
The loose plaster is then removed, and the concrete is cleaned with a mixture of water and muriatic acid. We recommend allowing us to do this because muriatic acid causes harmful fumes and burns on the skin and we have safety equipment rated to protect us from its effects.
We create and install custom fabricated staples alongside epoxy injections, two coats of multicoat, a bond coat, and spread it evenly over the surface of the pool to fill divots and holes. This ensures a solid structure and that your pool will last for years to come. After the concrete is fixed, it's time to add a new finish.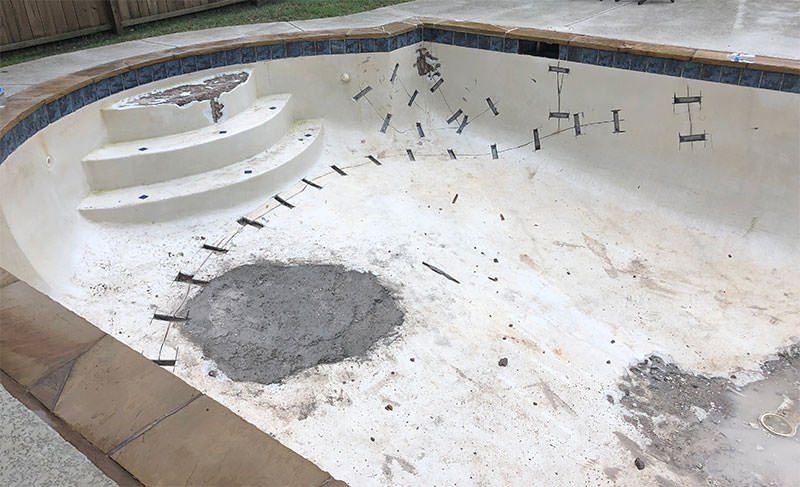 Resurfacing Cost
Use our pool resurfacing cost calculator to get an estimate for your project.
The cost to resurface your swimming pool depends on three main factors:
where you live
the surface area of your pool
and the material you want to use
The Dallas-Forth Worth area is warm and sunny, with swimming pools as a popular commodity. We have nearby suppliers, which enables us to keep costs low. Cooler climates tend to drive costs up.
We offer three main choices of pool finish material:
white plaster
aggregate finish (Pebble Tec, SGM)
pebble finish
This runs from the cheapest to the most expensive.
Plaster is the cheapest choice, typically costing around $4 per square foot. However, plaster does not last as long as the other options we offer, and it does not offer as much variety in how you want your pool to look. Plaster typically comes in a white or off-white color. It gives your pool a classic blue look and makes it smooth.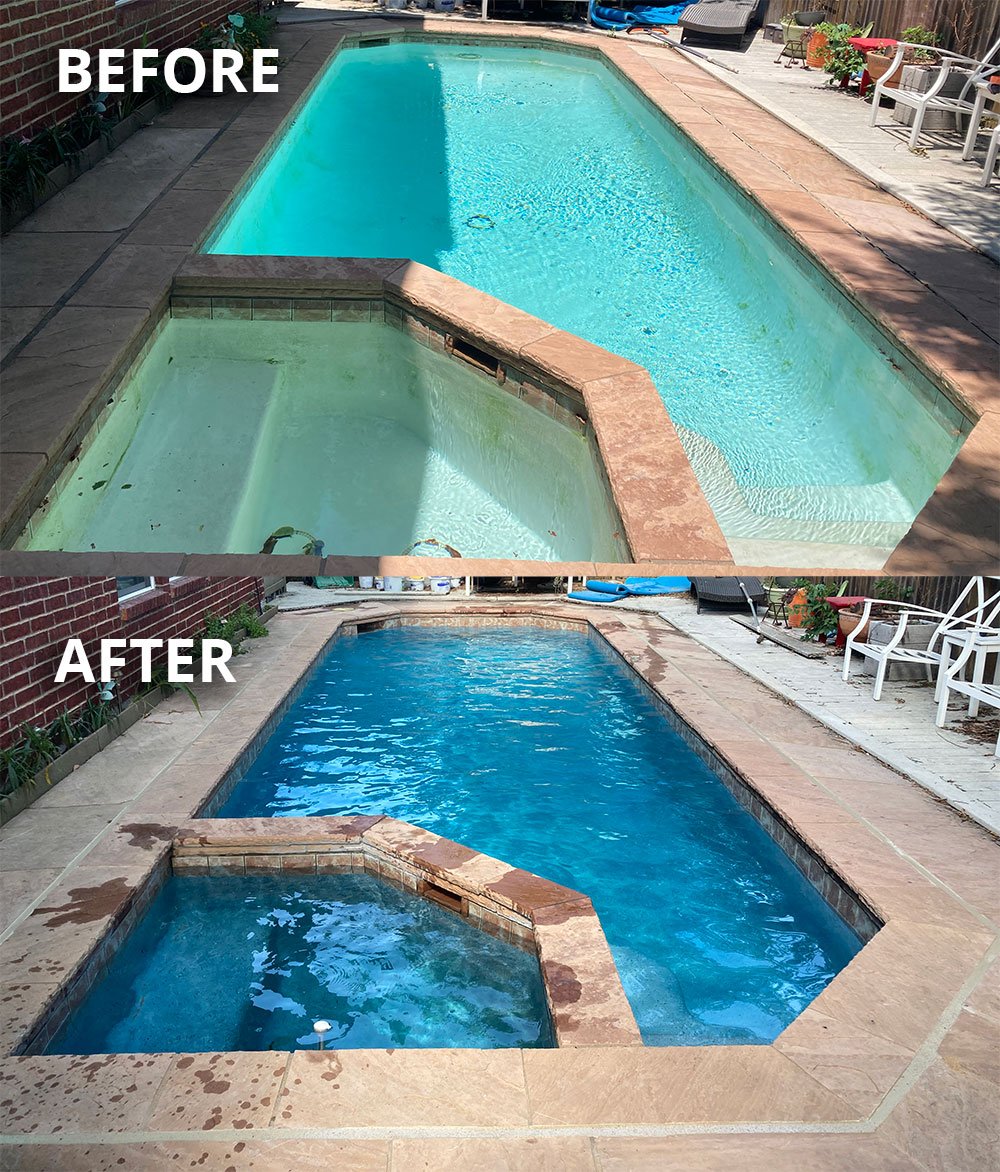 The middle-level pool resurfacing compounds are a mixture of concrete and finely crushed pebbles. We mix it with one of several dyes and smooth it into place over your gunite pool shell. These finishes give your pool bottom the look of a creek bed, but it can be harder to walk on for some people. It can cost up to $5 per square foot.
Willsha Pools offers a variety of resurfacing finishes and textures from the leading manufacturers. These offer progressively smoother surface because of more finely ground pebbles and even seashells for that authentic oceanside look.
On the upper end of cost and luxury, you can go with the world's finest gems. This can cost up to $10 per square foot. This is a smooth material with a highly reflective surface, enhancing the look of your swimming pool. It is also available in multiple color options that are beyond compare.
All of our resurfacing projects come with a warranty. This warranty ranges from 3-10 years depending on the finish you decide to use for your pool.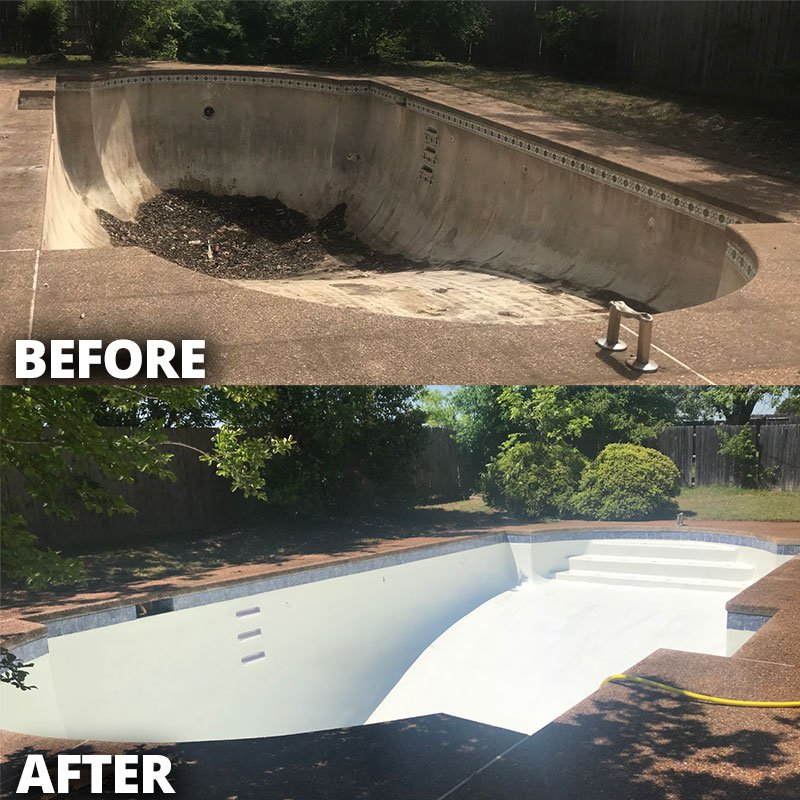 Pool Deck Resurfacing & Repair
Willsha Pools can also resurface and repair your pool deck. We have put together a page that goes over our pool deck resurfacing and repair services. If your deck is starting to peel or crack, it is time for a new surface.
The best time to repair the cracks in your deck is when you first notice them! Don't let them get big and spread to other parts of the pool area. This could lead to other larger problems with your pool and foundation.
On a positive note, if you need to resurface deck, it would be a good time to change color and texture or even add a cool deck coating.
If you have any questions, don't hesitate to contact us.
Leak Detection
Read our page dedicated to leak detection for more information on how we can help.
A less obvious sign that your pool might need work is if there's leakage. You can place a bucket filled with water at the shallow step of a pool and compare the amount lost at that point from evaporation. If the water level outside the bucket goes down more than the water inside the bucket, you have a leak, but no way to know where it is.
We use advanced leak detection equipment like hydrophones and sonic testing to pinpoint the location of the leak so we can fix it quickly and you can get back to enjoying your pool. Just contact us for a free quote and consultation.
About Willsha Pools
Willsha Pools has been in business for ten years with a team of experienced and versatile professionals that work together to provide our customers with the best-looking and best-performing swimming pools in the area.
Our team consists of exterior designers, architects, construction workers, and engineers. We pride ourselves on top-notch customer service. Schedule a no-obligation consultation to find out how we can serve you summer pool needs.