Pool Decks & Patios
One of the best parts of being a homeowner is having your own outdoor space. Patios and pools are perfect spots for outdoor relaxation and recreation. Spending the weekends grilling with friends and family while playing games with the kids. Why travel to relax when these options are right in your backyard?
Maintaining these outdoor spaces is not always quite so relaxing. Keeping your patio or pool deck clean and free of unsightly cracks or damage can be quite the chore. That's why many people have turned to stamped concrete for their outdoor spaces.
When properly installed, stamped concrete patios and pool decks are beautiful, long-lasting, and easy to maintain.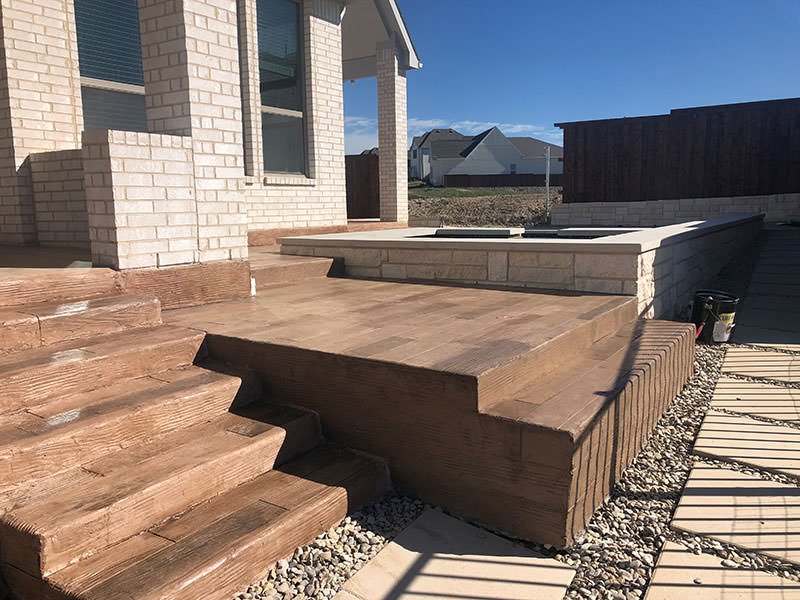 What is Stamped Concrete?
Stamped concrete, sometimes called embossed concrete, is exactly what it might sound like: concrete that has been stamped or shaped into an attractive and durable design.
By adding colors and using different stamp shapes, we can make stamped concrete look identical to other deck materials, like wood or stone pavers, at a much lower cost.
The installation process for stamped concrete requires expertise and attention to detail. When installing a stamped concrete patio or pool deck, timing is critical. We have to mix and add colors, hardeners, and things like anti-skid treatments at precisely the right moment.
We have to apply the stamps at the right moment in the hardening and treating process, or the appearance and durability of the concrete will suffer.
It's not something that can be done without the proper tools, materials, and know-how.
Stamped Concrete Design Options
Stamped concrete pool decks and patios are just as attractive as decks and patios made with higher-end materials, but they're less expensive, especially long term.
This longevity makes them an excellent option for people seeking affordable decking and patios. Stamped concrete is also quite versatile in terms of its design. Stamped concrete designs can be quite elaborate and unique, or they can resemble natural materials.
Stamped concrete can be shaped and colored to look like many higher-end materials:
Stamped Concrete Color Options
You can choose from many different stamped concrete patio or stamped concrete pool deck colors. The most popular colors are shades of gray, red, and brown, but we can also use multiple colors to give the concrete an attractive weathered or textured appearance.
Because of the unique installation process for stamped concrete, the design options for stamped concrete patios and pool decks are almost endless. You can combine patterns, colors, and textures to create something unique and special to your tastes and home.
When planning your deck or patio project, talk to Willsha Pools about what options and colors are available with stamped concrete.
How Does It Compare to Other Decking Materials?
When choosing a material for your pool deck or patio, there is a lot to consider. Before selecting a material, ask yourself several questions:
How much sun exposure does the surface get?
Will the surface regularly get wet or be exposed to harsh chemicals?
How much do I want to spend?
If your surface gets a lot of sun exposure, you want to choose a material that will stay cool. If it regularly gets wet, like a pool deck, you want something that will not get too slippery.
Balancing all of your different needs and concerns when planning a deck or patio can be challenging. Knowing your options can help.
Stamped Concrete vs. Spray Decking
Spray decking is spray-on material that is often used to revitalize old concrete surfaces. As the name suggests, it is sprayed onto old concrete to cover and seal cracks and to provide a more attractive appearance. It's also anti-skid, so it's a popular material for revamping old pool decks.
Stamped concrete, on the other hand, can be an entirely new surface. If you have an existing concrete surface that's in good condition, it can be recovered with stamped concrete.
More often, though, stamped concrete is used in new projects. Because it's a new surface, it may last longer than spray decking. It can be more slippery than spray decking unless an anti-skid additive is used.
Stamped Concrete vs. Travertine
Another popular material used in patios and pool decks is travertine. Travertine is a type of limestone. It stays cool naturally, even in the hot sun, and it looks quite nice.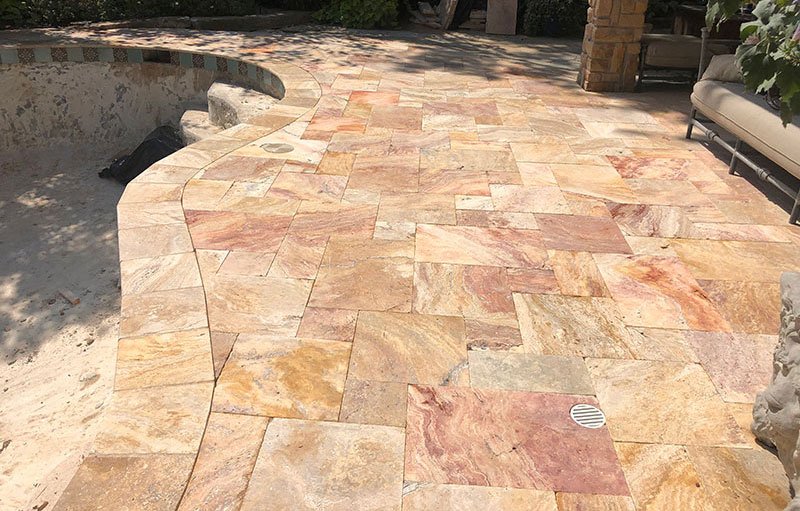 However, because it is a naturally-occurring stone, it can also be quite expensive.
Stamped concrete is much less expensive than travertine, but it can look just as nice. Don't forget that stamped concrete can be shaped and colored to look like more expensive materials like stone pavers, bricks, and even wood! Many homeowners choose stamped concrete over travertine for its versatility, durability, and economy.
How Do I Maintain Stamped Concrete?
Proper maintenance of your stamped concrete pool deck or patio is important. Any deck or patio that is not properly maintained can quickly become run down and unsightly. Materials like paving stones, wood, and brick often require tedious weeding in the cracks between materials. Stamped concrete, on the other hand, is one continuous surface. It creates the illusion of divots between pavers or bricks, but underneath, the concrete will keep the weeds at bay.
With regular concrete surfaces, lack of maintenance can lead to chips and cracks, which can be hazardous in high-traffic areas. Stamped concrete, too, requires proper maintenance to keep it in good shape. That being said, maintaining stamped concrete is simple.
Stamped concrete only has to be pressure washed and resealed every two to three years. In between resealing, an occasional washing will suffice. You can clean it using just a garden hose, or using a mild detergent and push broom if you like.
For things like oil or grease spills, you will need to use a stronger detergent or degreaser, and they should be removed as soon as possible. Grease and oil can both stain your stamped concrete and decrease its durability. Rock salts and other chemicals used to melt snow can also damage your stamped concrete, so use them sparingly.
When properly maintained, stamped concrete patios and pool decks are extremely durable. Cracks can and do happen, but because stamped concrete is textured, they often blend into the pattern or design.
Many homeowners with stamped concrete patios or pool decks go years before their surfaces require resurfacing and repair.
Is Stamped Concrete a Good Choice for Pool Decks?
Planning a pool deck or resurfacing one requires extra special consideration and care. Pools are a lot of fun, but they can also be dangerous.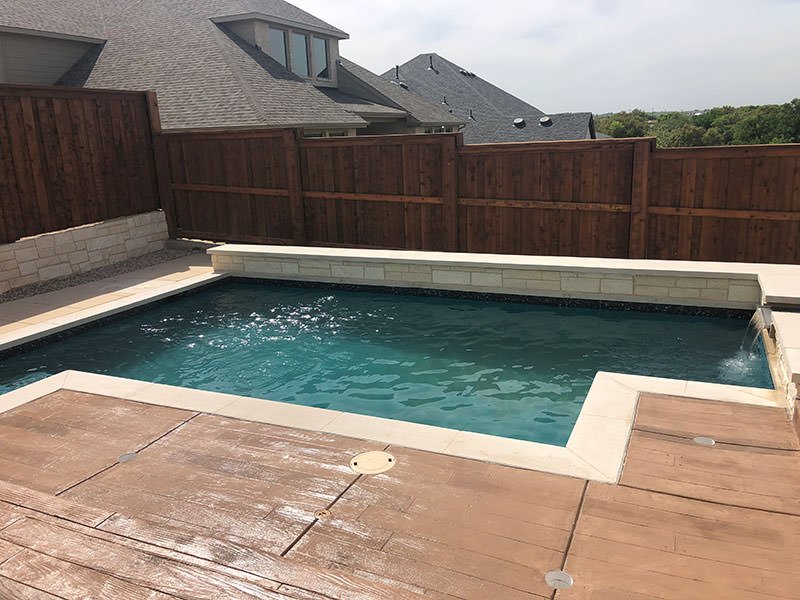 Pool decks get wet, which means they can get slippery. It's easy for both kids and adults to be careless around the pool when everyone is having fun. Using proper pool decking surfaces with anti-skid properties makes it easier to keep swimmers and sunbathers alike safe and sound over summer.
Is Stamped Concrete Found Around a Pool?
Many pool owners' biggest concern about pool decking is about the durability of the deck materials. Pool decks see a lot of foot traffic, and they get very wet with water that has been treated with either chlorine or salt. These chemicals can make pool decks subject to a lot of wear and tear.
Stamped concrete around pools is a long-lasting option because it can stand up to even the harshest chemicals and heaviest foot traffic.
Is Stamped Concrete Slick When Wet?
Stamped concrete pool decks can become slippery if they are not properly treated with an anti-skid additive during installation. It is widely used in surfaces like driveways and outdoor patios that may not see much foot traffic during rainy weather.
However, stamped concrete is also a popular material for pool decks because even with the anti-skid additive, it is less expensive and more attractive than many alternatives.
Additionally, because the textured surface of stamped concrete can add additional anti-slip protections. Embossed concrete around swimming pools can be just as safe and beautiful as flagstone or wood at a much lower cost!
Bring Your Poolside Deck Ideas To Life
Whether you're looking to begin a new backyard project or revamp an old one, there is a lot to think about during the planning process. You have to consider cost, durability, and design.
You have to think about how often the surface will be used, and by whom. You have to weigh the pros and cons of using different materials, and you have to decide whether your project is a DIY or requires the expertise of professionals.
Despite all these questions, one thing is for certain. The experts at Willsha Pools can answer all of your questions about stamped concrete patios and pool decks. We are always happy to discuss your upcoming projects and help you discover the right materials for the job.
Contact us today for all your decking needs or to receive a free estimate for your patio or deck project.