Your pool deck is the immediate area around your pool. Also known as a pool patio, this is the space where you place lounge chairs, tables and other pool/backyard furniture.
The deck creates the look and style of your entire swimming area.
When designing and building a pool deck, materials matter.
The area should be stylish, inviting, well-constructed and non-slip.
Your swimming pool deck can be the perfect place for family fun.
Here's everything you need to know about pool decking:
Pool Decking vs Pool Coping
Pool decking and pool coping are two different things.
Pool coping is a cap around the edge of the pool. Made from stone or concrete, the pool coping is normally about 12 inches wide.
Pool coping is between the pool and the decking.
Pool decking is much larger. Decking should be large enough to accommodate furniture, chairs and maybe even a full BBQ grill. Your pool decking allows you to create a unique look for your entire poolscape.
Swimming Pool Decking Materials
Decking allows for a lot of flexibility in design. Common decking materials include concrete, wood, stone more.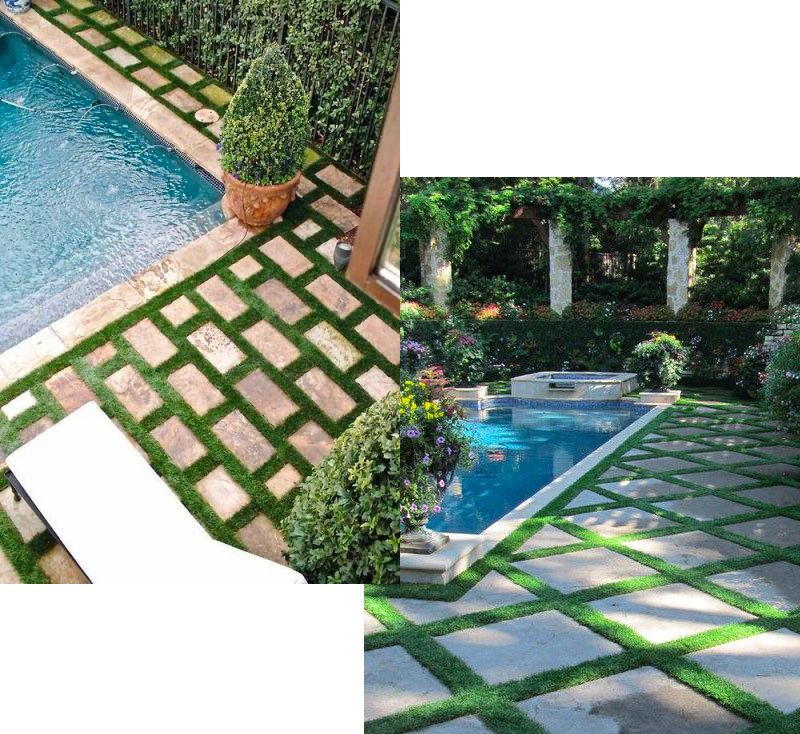 When remodeling pool decking, the first step is choosing the right materials. Here's a look at the pros and cons of popular decking materials:
Concrete
Poured concrete is the most popular – and usually most affordable – pool decking material.
Concrete pool decks can be either broom finished or stamped. Broom finishing creates a standard concrete look. Various color options are available, too.
Stamped concrete can resemble stone, tile or brick. While a stamped finish is usually a bit more expensive than broom finishing, stamping is also much cheaper than stone.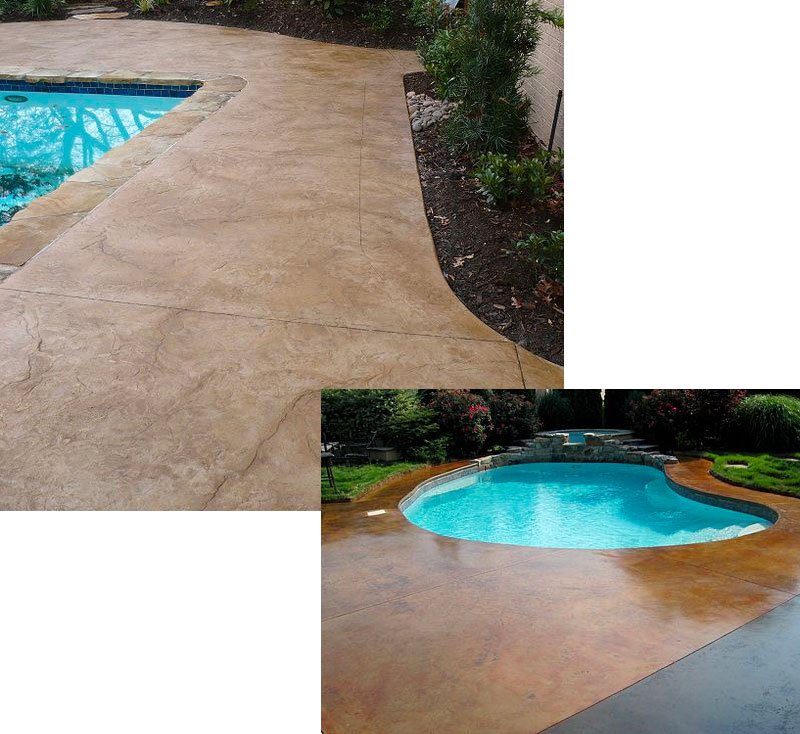 Concrete does have some restrictions based on climate. If you live in an area with cold winters, concrete might not be the best choice. Cycles of freezing and thawing will almost certainly crack the concrete over time.
Fortunately, this isn't much of a problem in the Dallas-Fort Worth area. Concrete is a popular pool decking material throughout the area.
Wood
Wood is another popular decking material. It's low-cost, easy to work with and creates a beautiful, natural appearance. Wood can be built off the ground, which makes it good choice for irregularly-shaped landscapes.
The downside of wood decking is the amount of preventative maintenance.
The wood will need to regularly be stained and sealed to prevent color loss and damage. If you have a large deck, this can be a somewhat considerable project you'll need to have completed annually.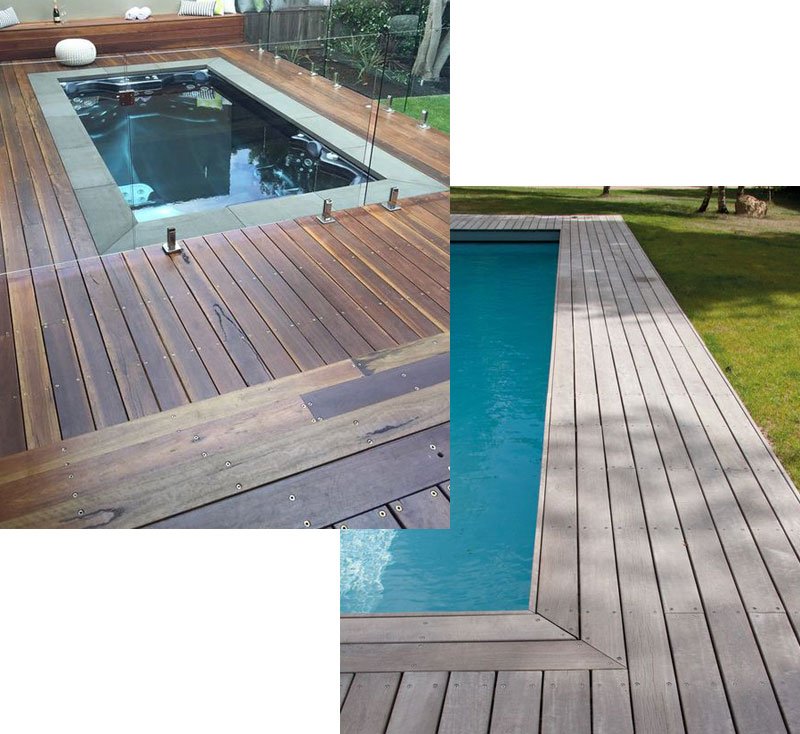 Composite Wood
Do you like the look of wood but don't want to deal with the maintenance?
Composite wood might be the perfect solution. This material looks like wood but is actually made from plastic-like synthetics.
Composite wood requires practically no maintenance at all. It won't fade, splinter or rot even after consistent exposure to sun and water. Plus, the composite wood strongly resembles real wood in both look and feel.
A variety of simulated wood types, in many different colors, are available.
The downside of composite wood is the cost. It's far more expensive than traditional wood.
However, the lack of maintenance can help save money over time.
Stone
Stone is durable, affordable and stylish – making it one of the most popular decking materials for pools in all types of climates.
Stones are available in many different shapes, sizes and colors.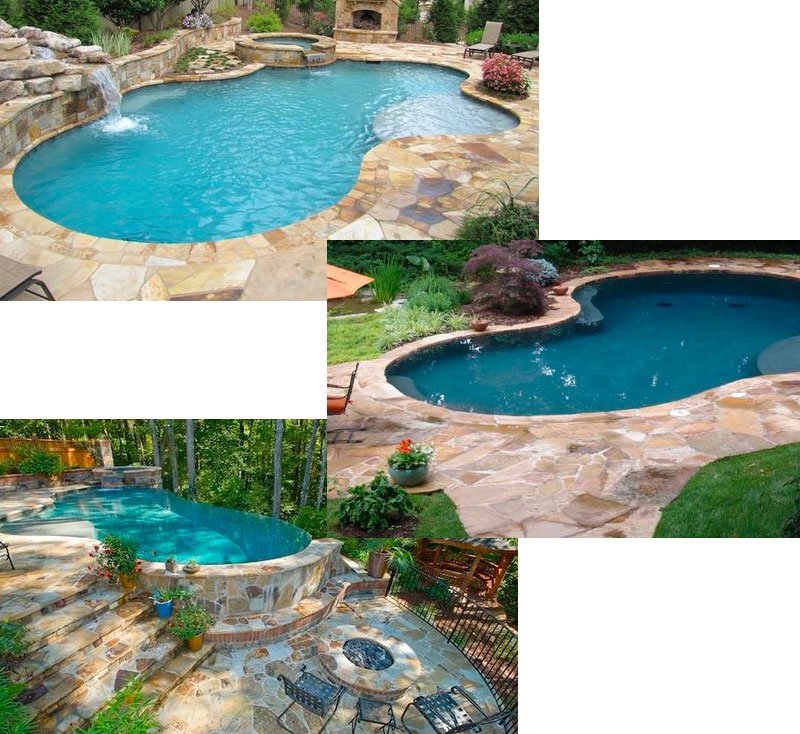 They can be used to add pool decorations such as waterfalls, boulders and other structures. Stone decking adds a timeless, natural look which is suitable for just about any architectural style.
Stone is extremely durable and requires almost no maintenance.
Plus, stone has natural friction. The non-slip surface helps increase poolside safety.
For a typical installation, large stones are finely cut and then placed into a layer of concrete. This helps prevent any movement over time.
Many different types of natural stones are available.
Travertine is one of the most popular stones for pool decking. A type of limestone, travertine has natural no-slip properties which make it comfortable and safe for a wet environment.
The durability and stylish look of stone does have a price.
Stone is almost always the most expensive option for pool decking. However, the quality and design options are often hard to beat.
Pavers
Pavers are bricks made from either concrete or stone. They're arranged into an interlocking pattern and then placed on top of either a stone or sand base.
Traditional concrete is often cured during placement, which can potentially result in cracking later on.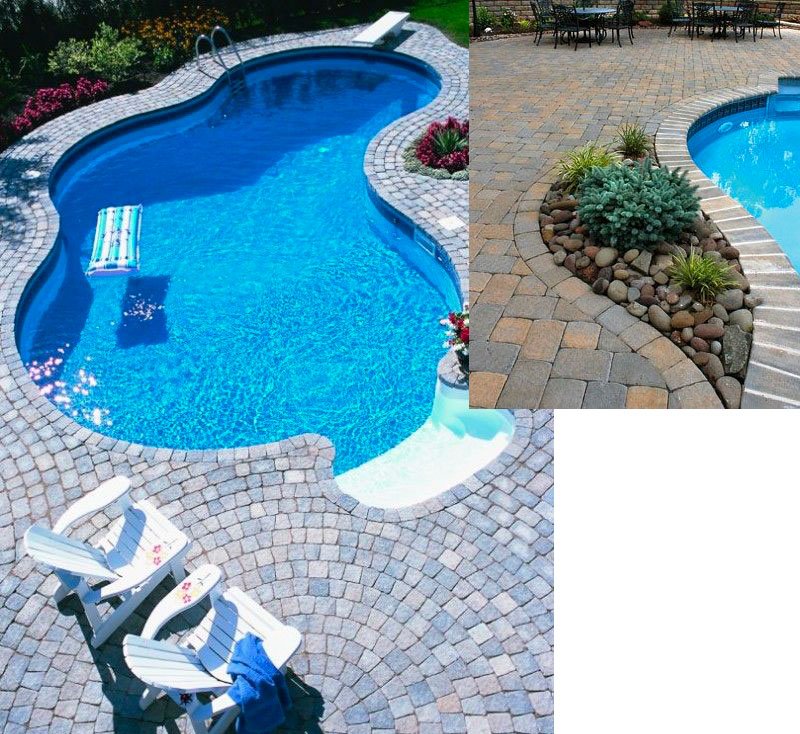 However, pavers are cured before placement. This means they're far less likely to crack or become damaged.
Pavers are also easy to repair.
If a paver ever cracks, it can simply be removed and replaced. They're one of the easiest poolside decking materials to maintain.
Plus, they offer plenty of different design options. Pavers are available in a variety of shapes, sizes and colors.
You can create a variety of unique patterns.
Pavers do have a relatively high cost compared to many other decking materials. The exact cost will depend on the type of paver. Generally, concrete pavers will be less expensive than stone.
Tile Deck
Tile adds a clean, elegant look to any pool. Plus, tile is very easy to work with.
Note that only unglazed tile can be used as pool decking. Glazed tile – like what you'd find on a kitchen or bathroom counter – is far too slippery to safely use around a pool.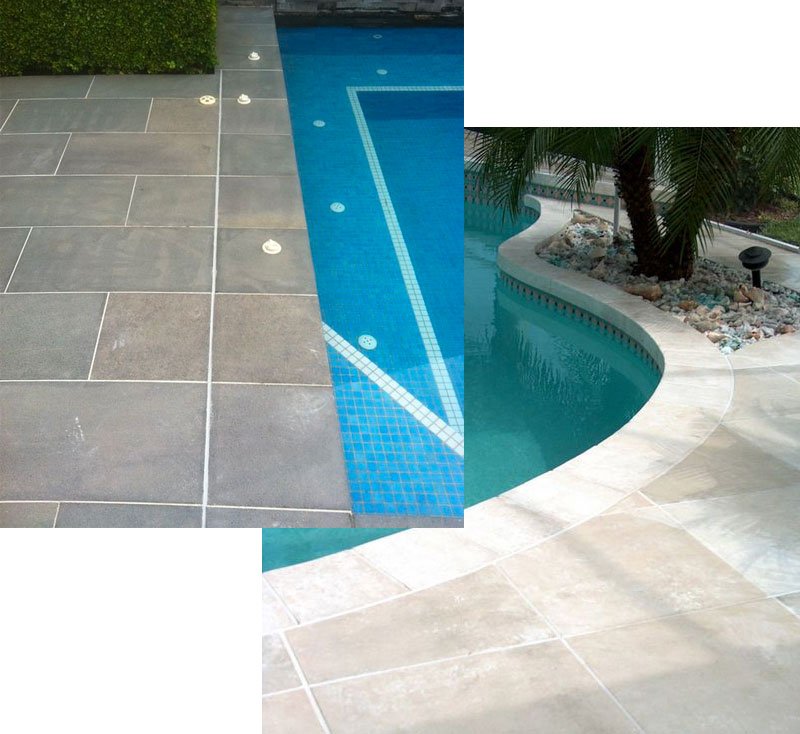 Don't feel you're limited to just square tiles. You can find tile in a variety of other shapes and sizes to create a unique look. You can even use specialty tiles which resemble stone, brick, marble or wood.
Tile is one of the quickest and easiest materials to install. It can be set in concrete or with traditional grout. Many tiles are even self-adhesive. They can be stuck onto practically any type of existing surface including concrete, wood or even bare ground.
Tile is a great way for an easy pool deck renovation. Self-adhesive tiles are also often a good choice if you want to expand the size of an existing deck.
Pool Deck Remodeling
Does your existing pool deck look outdated, boring and uninspired? Remodeling your pool decking is often an easy and affordable way to add a fresh, exciting look to your entire poolscape and outdoor living area.
Other remodeling methods – such as changing the shape of your pool – typically require extensive and costly construction. Simply changing up just the decking is a relatively fast and inexpensive to make your entire pool area look completely brand new.
No matter what type of swimming pool deck you currently have, options for a great new look are available.
For instance, an existing concrete deck can be used as a foundation for pavers, tile or stone.
Looking to expand the size of your pool deck?
That's usually the perfect time to remodel the existing deck with new materials. You can ensure the new areas blend in seamlessly with the existing ones.
Pool Deck Construction
Building a new pool? That's great.
When constructing a new pool you're able to incorporate the pool decking materials into the overall design.
The best pool decking compliments both the shape of the pool and the surrounding landscape.
For instance, if your pool is surrounded by foliage, stone decking can help complete a natural look.
You have the most freedom for developing pool deck ideas when you're building a completely new pool.
Take advantage of that by choosing the absolute best-looking pool decking possible.
Spray and Cool Decking
In the Texas heat, your pool deck can get very hot!
A popular option to combat the heat on your pool deck is to apply a spray or cool deck coating.
Not only will this help with the heat, but you can also pick the color, texture, and design.
If this is something you are interested in, head over to our page that goes over the spray and cool deck pool options.
Pool Deck Repair and Refinishing
Does your pool leak? Are cracks or other signs of disrepair visible?
You might need pool deck resurfacing, re-plastering, new mastic,  or other pool deck repairs – and that's a great time to consider new pool decking.
While the pool's plaster and coping do the work containing the water, your pool decking also plays an important role. If the decking becomes cracked, worn or damaged your entire pool can become damaged.
Frequent damage to decking can indicate unseen leaks, so you'll want to schedule a professional inspection.
If your pool needs repairs, adding changes to your decking is usually pretty easy and inexpensive. Even something as simple as concrete pool deck resurfacing can help prevent leaks while adding a fresh new look to your pool's design.
Final Thoughts
Decking plays an important role in the look and safety of your pool. Many different materials are available so you have plenty of opportunities to be as creative as you wish.
If you live in the Dallas/Fort Worth Metroplex and are interested in learning more about pool decking, contact Willsha Pools today.
Whether you want to change your existing pool decking or are looking to build a brand new pool, our expert team is ready to help.
Your pool decking can be beautiful, safe and affordable!