DFW Pool Builders
Willsha Pools is one of the most trusted, reliable and experienced swimming pool builders in Texas. Willsha Pools prides itself on its reputation for outstanding pool servicing, remodeling, and resurfacing. We treat every customer with the respect they deserve. And, our long history of success makes Willsha Pools the smart choice for your next pool construction and/or backyard project.
Your pool will not only compliment your home and setting, but will also enhance your swimming pool enjoyment while adding tangible value to your property.
The reason our pools are generally regarded as masterpieces is that we leave no stone unturned when it comes to our customers. Personal service is the name of the game at Willsha Pools.
Our pools begin and end with you, our customer.
Willsha Pools are creative reflections of our customers and their goals for sumptuous swimming pool surroundings. Swimming pools may be similar, but every Willsha pool is unique!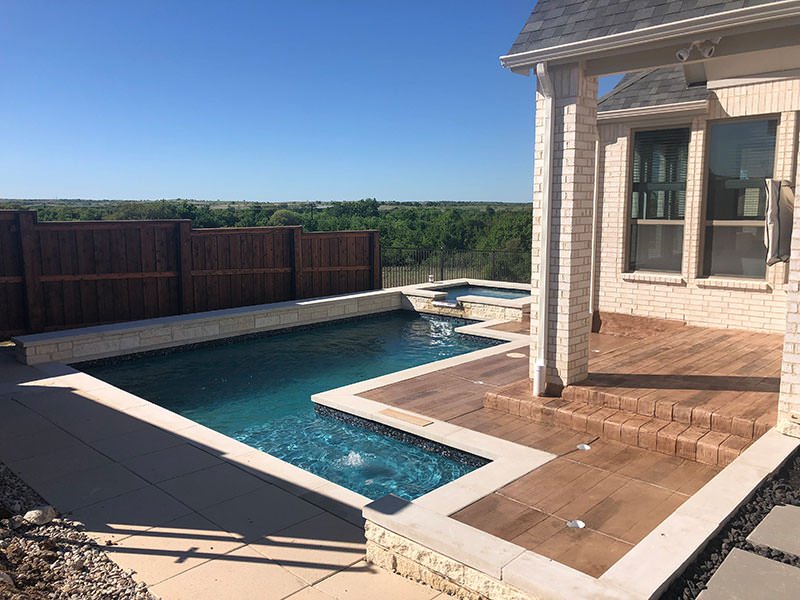 Pool Designs That Work
It is our commitment to custom-made designs that make the difference. The Willsha Pools team of outstanding design professionals know the industry and has access to the finest tools, latest equipment, newest technology and most experienced construction teams in Texas.
All these elements will come together to benefit you to make the swimming pool of your dreams.
Our designers will meet with you, visit your site and listen carefully while you describe your goals.
Then, we will help you meet your budget and inform you what options are esthetically realistic.
With proper planning and thoughtful design work, it is amazing how much value and enjoyment you can add to your swimming pool experience.
Perhaps your setting would accommodate one of our lagoon shaped pools or another modern geometric shape. Our designers will explore every possibility so that from the time we excavate to the time you first dive into your new swimming pool you will know precisely what the end product will be.
Our swimming pools are accompanied by a 3-year warranty on pool equipment as well as an unprecedented 2-year warranty on leaks. Call 817.835.9587 today to arrange a free consult with one of our pool design experts.
The Willsha Pools commitment to excellence ensures that our customers receive straightforward answers to all questions.
Build a Pool with Endless Choices
Willsha Pools strives to provide the best pool for your home and setting. So much depends upon your expected use, but the setting is also big factor. Shape and size are the first concerns of most customers, but there are many other options and decisions for pool owners.

We are pleased to offer many top quality choices to our customers. These choices take customization to a new level. Before your pool design is complete, we will discuss all these possibilities:
Pebble Tec
Stonescape options
Beadcrete
Plaster
Pebble Sheen
Coping Choices, including Bluestone
Cantilevered Edging
A Dynamic Pool Waterfall
Other Waterfall Options
Dive Rocks
Sun Shelf
Pool Beach Entry
LED Lighting
Sheer Descents
Fire Bowls and Torches
Negative Edge
Vanishing Edge
Automatic Safety Cover
Deck Jets
Yes, Willsha Pools offers all these exciting possibilities and more, so take your time when customizing your swimming pool. Our designers will work to provide you the best pool for your budget.
Our team uses the latest equipment and technology options such as:
Aqualink Automation
Robotic Cleaners
Caretaker/Paramount Floor Cleaning
Mineral Springs
Gas/Propane Heaters
Electric Heat Pumps
Badu Swim Jet
Your swimming pool can be as beautiful and luxurious as you want. Let your imagination run free and let our designers help make your swimming pool everything you hope it will be.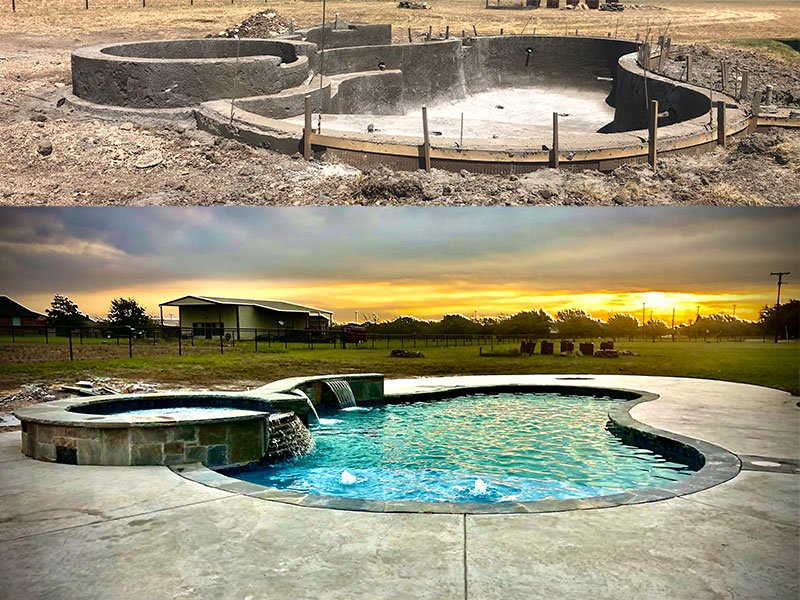 The Willsha Pools Pledge
Willsha Pools pledges to provide our customers the design expertise needed to ensure a top quality finished product that adds value to the home and swimming pool enjoyment to the family. Our warranties speak volumes about our commitment and confidence.
We only hire proven pool construction contractors that our customers can trust. Willsha Pools will offer the best equipment and products in the industry.
You can buy with confidence at Willsha Pools.
If you are thinking about a new pool call 817.835.9587 today and setup our obligation-free, cost-free consult.