Pool Deck & Patio Overlays and Concrete Coatings
Alongside regular pool maintenance, your surrounding pool deck also needs attention to provide both an aesthetically pleasing and functional outdoor space. After sustaining heavy foot traffic, constantly changing weather, and pool chemicals, your pool deck might need a touch-up.
Pool deck coatings and overlays create beautiful outdoor spaces while also increasing the surface strength of your deck.
If you're interested in resurfacing your pool deck, keep reading to learn about the various features of our coatings and overlays and what might be the best option.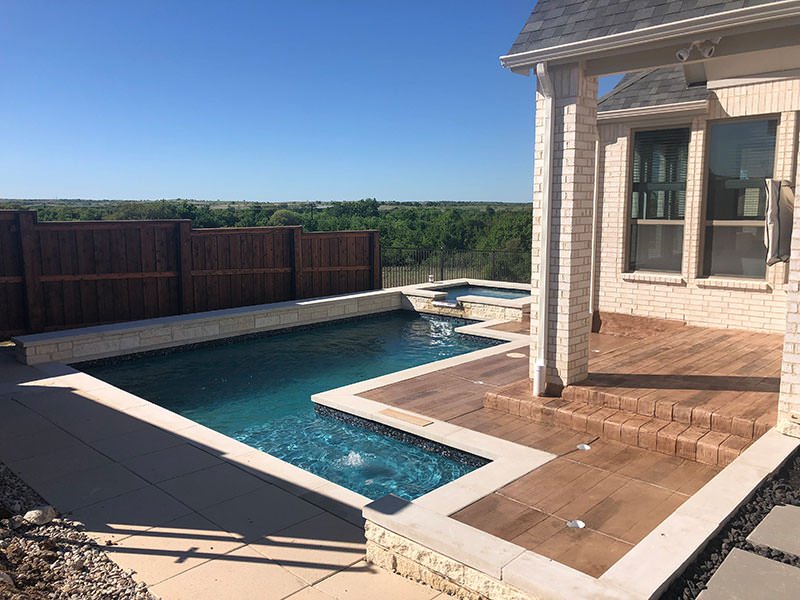 Pool Deck Resurfacing
As a whole, resurfacing refers to the process of repairing and refinishing your pool deck without any serious demolition involved. Nothing puts more of a drag on your summer than sitting inside on a hot day, wishing you could be in the water—but you can't enjoy your pool because your backyard is a never-ending construction site.
Observing dangerous conditions to your deck is a good sign that it's time to reach out and hire us for resurfacing. Small cracks can turn into large ones if they're ignored, risking damage to your deck and your pool as they grow in size.
Not to mention the risk of someone cutting their foot on exposed, sharp rubble as they walk around the deck.
If not unsightly cracks and imperfections, resurfacing is typically the best route when you're searching for a new and updated look.
Over time, your pool deck is subject to wear and tear, producing an immense amount of stress on your original finish or coating. Depending on the severity of damage to your deck (large, deep cracks or settlement), resurfacing may not be an option—that's why it's especially important to maintain and monitor your deck properly.
Benefits of Having a Concrete Pool Deck
Pool decks come in many shapes and sizes, and most importantly, surfaces. We service stone, tile, stone, and slate pool decks, but most of our work is composed of maintaining concrete decks.
Before you shy away at the mention of concrete, there are many benefits to consider. Workmanship has come a long way; in return, choosing concrete as the base for your deck can produce beautiful results that won't end up matching your bland sidewalk or driveway, but instead look modern, sleek, and inviting.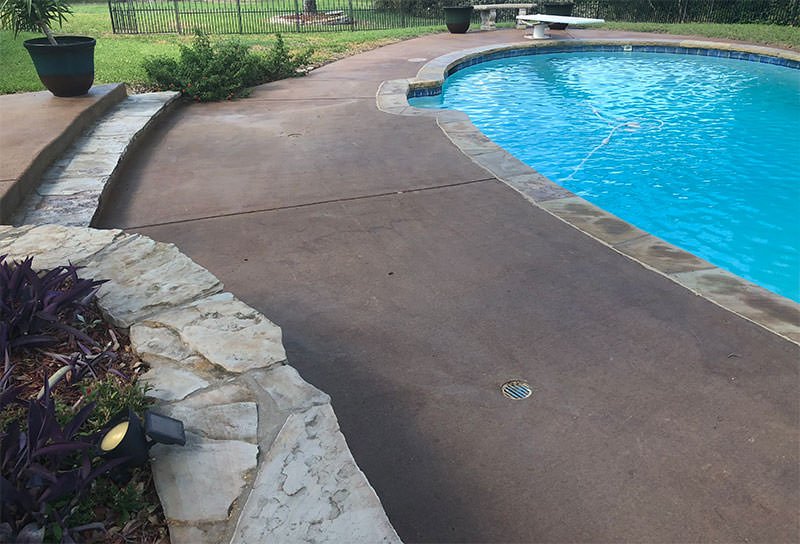 Concrete is typically the most cost-effective material up-front, and in the long run, as maintenance and servicing are quick and easy. It's durable and stationary, which means it will be there to complement your home for many years to come.
Offering Versatility
Instead of tearing down your deck and starting from scratch when you want something new or need repairs, concrete pool decks create an opportunity for different styles and finishes in the future.
Concrete is not the best choice for areas with harsh winters, but that isn't a problem in the Dallas-Fort Worth area.
Even if the concrete deck itself is high quality, surpassing an overlay or coating can leave it vulnerable to dangerous conditions down the road. Without any sealant or protective coating, water can enter into exposed cracks and accumulate behind the pool walls.
If the damage is not addressed quickly, the pool and deck structure is in danger of facing severe deterioration.
What is the Best Pool Deck Coating?
Concrete coating is the most popular pool deck coating because of its durability, cost, easy maintenance, and design flexibility.
There are a few coating and overlay options for your concrete deck, depending on your needs. While the sheer number of options can be overwhelming at first, as you learn more about each overlay's features and benefits, you'll be able to make a more informed and sensible decision.
Making the best decision for your pool deck overlay can be determined by first addressing a few factors:
Budget
Sun and water exposure
Amount of pool and deck usage
Maintenance
Concrete Overlay
Concrete overlay is an additional, thin layer of concrete applied to an existing deck. This can mask imperfections, repair damage, and open the door to new design options. These can be finished using a variety of tools such as stamps or sprays.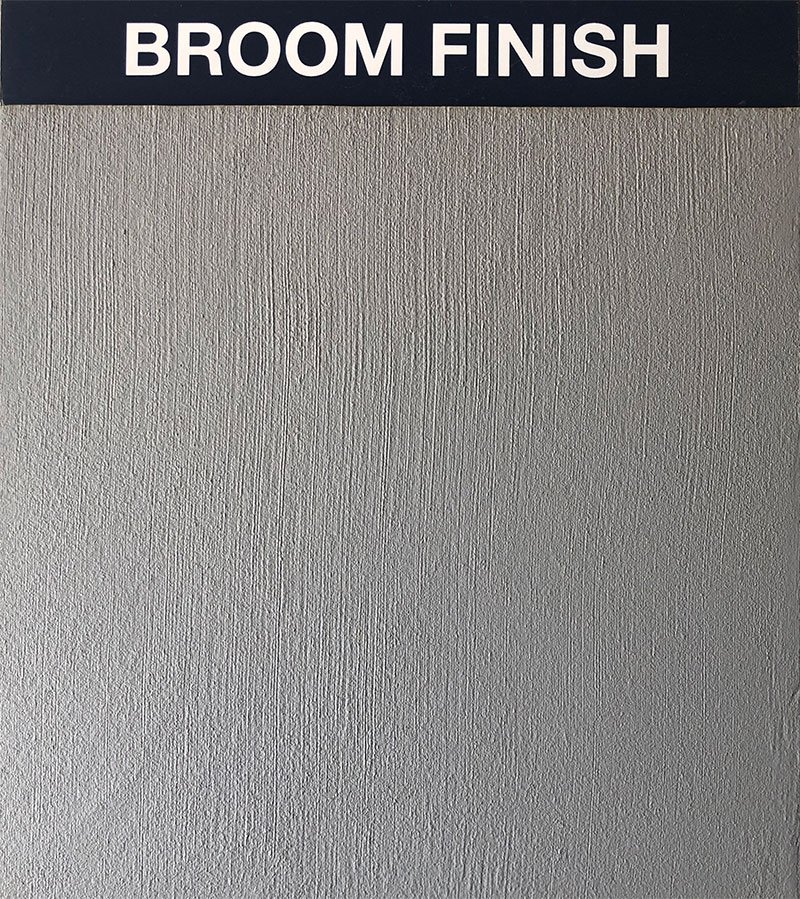 Stamped Concrete
Stamping, or embossed concrete, can replicate the appearance of popular surfaces such as stone, tile, brick, or wood while providing you with the benefits of a concrete deck such as durability and longevity. Stamped concrete overlays can be applied to brand new decks or existing ones. This process helps keep costs low while producing a high-end, decorative finish.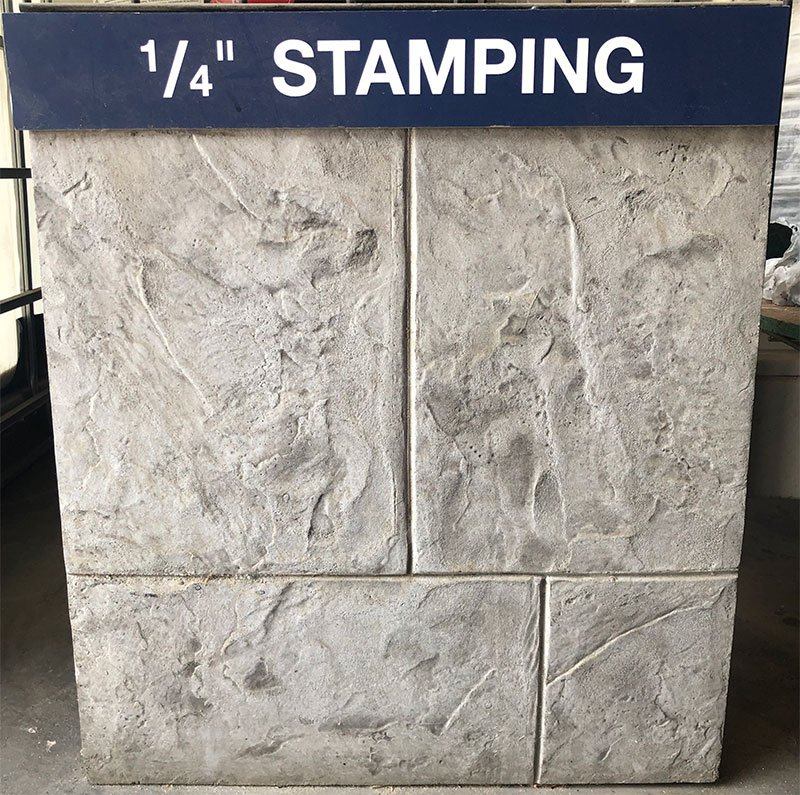 Stamped concrete is best done by our professionals. We have to pay close attention to timing—applying the stamps at the correct time and following the proper procedures for administering the treatments that will keep your deck looking good and performing well for years to come.
Spray Decking
Spray-decking, another popular method of resurfacing, produces a textured surface on top of existing concrete. This process is also known as a knockdown finish or a cool deck. Designs can vary in composite effects, scorelines, and colors to produce a truly unique end product.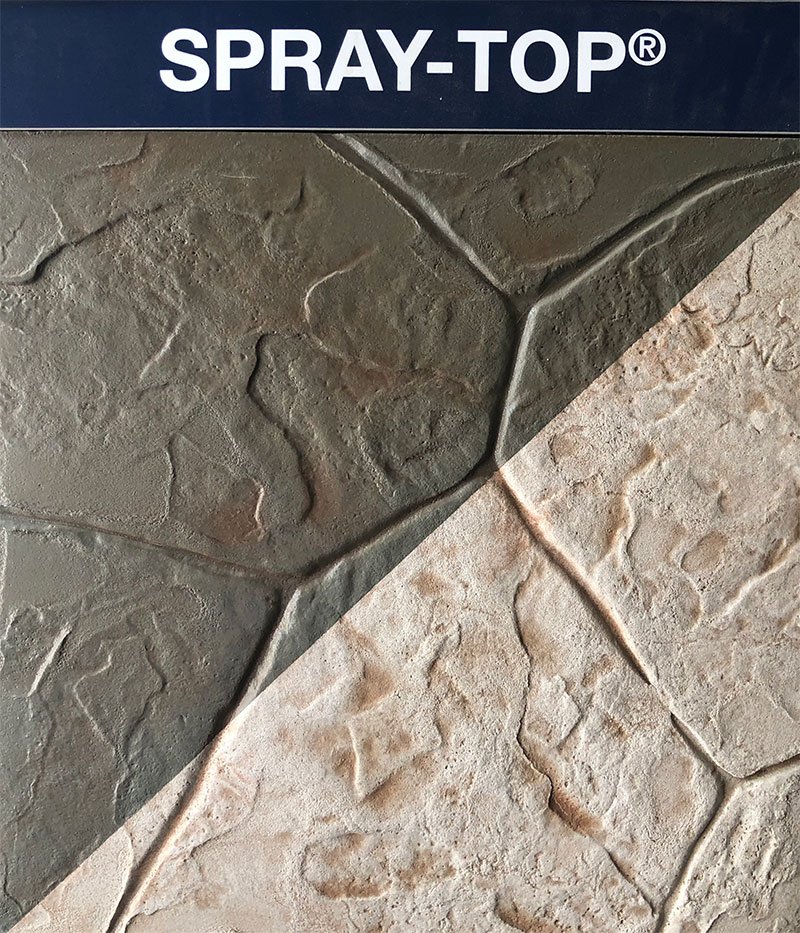 The area surrounding your pool is a high barefoot traffic area, and having a textured surface is beneficial for you and your guests. A spray overlay can help prevent slipping in the presence of standing water, and most importantly for the customer—a quick installation process with little downtime to get you back into your pool as soon as possible.
Spray-decking is twice as strong as traditional concrete and is very easy to maintain. It's also not limited to your pool deck but can also be used on your driveway, entryway, patio, and other outdoor surfaces. Besides slip-resistance, the SGM Spray Deck system also protects against extreme heat, preventing blistered feet and sun damage.
Concrete Pool Deck Paint & Stains
Deck paint is a cheap and easy one-time option but comes with more work in the long run. While adding a fresh coat of paint to your deck can help conceal imperfections and improve its look, after a year of constant use and weather exposure, it will typically need to be redone.
This means an annual trip to the hardware store for new paint and tools, and an entire day set aside for the job itself.
Maintenance costs will rise exponentially compared to going with either stamped concrete or spray pool deck coating. Not to mention, deck paint does not offer the various options and benefits of other overlay options such as heat resistance and custom textures or stamps.
Concrete staining comes in two different options: acid-based and water-based. The concrete deck needs to be correctly prepared beforehand to make sure that the stain adheres properly.
Acid-based: Acid-based stains are popular as they produce different reactions with the concrete and can replicate the appearance and shading of natural surfaces such as granite or marble.
Water-based: Water-based stains have more consistency in their results and will typically look more like the original swatch after drying. While concrete stain penetrates deeper to last longer than concrete deck paint, the results are still unpredictable and the process tricky if not done by a professional.
Design & Colors for Your Deck Overlay
At Willsha Pools, we know that your deck's finished appearance is as equally important as the quality. We can help turn your poolside dreams into reality with our broad palette of colors and detail-oriented finishes.
The sky's the limit when it comes to how you would like your deck to look. Popular choices can include:
Beige, tan, or white to replicate a beachside environment and provide more sunlight reflection.
Earth-tones such as deep reds and brown to complement your home's exterior and backyard landscaping.
Bold choices can include darker blues and greys, and when used in combination with unique textures and stamps, can create an eye-catching outdoor area.
Multicolored designs in order to create contrast and depth. This typically requires more work and attention-to-detail to create a stunning result.
In terms of actually applying color, different techniques are dependent on which overlay you decide on.
Integral color concrete refers to adding the color to the concrete mix before applying the overlay. This allows for overall consistency in color and thickness throughout the coating.
Color hardener is an aggregate composed of materials such as sand, cement, pigment, and conditioning agents. This is typically applied right after pouring the concrete mix, where it absorbs the surrounding moisture before being floated into the concrete. This method can produce a broader shade range of colors than integral color and, if applied correctly, can improve your deck's surface strength.
Surface-applied colors are dyes, stains, and tints that can be used alongside integral color concrete and color hardeners, especially when you're trying to create a truly unique finish.
When planning your pool deck project, ask your contractor which method will be best for producing the results you're hoping for.
Ready to Dive In?
If you are looking to resurface your deck and would like a free estimate regarding the best pool deck overlay options, contact Willsha Pools.
Our experienced team is able to answer any questions or concerns you may have.